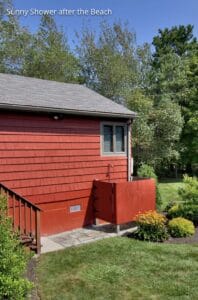 This spacious, central air conditioned,12 room lodge features knotty pine walls, oak floors, and fine casual furnishings (many of which have been designed and custom-made exclusively for the lodge). The spacious interior of the lodge provides a warm, comfortable and relaxing atmosphere for vacation living. An examination of the lodge floor plan will reveal the spaciousness of the lodge and its ability to accommodate large family groups with both privacy and comfort.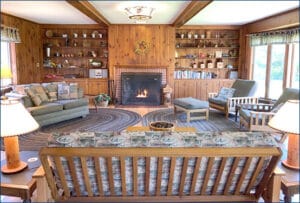 Of the eight bedrooms, one features a king sized bed, five offer a queen sized bed, one offers a full sized bed, and one has two sets of bunk beds (four twins). All are tastefully decorated with patchwork quilts, hand painted furniture and a careful eye towards coordinated detail. The large living room with fireplace has a large cable TV, DVD, Free Wi Fi, card/game table and assorted popular board and table games. The sun parlor has a 12 foot long dining table, which is custom made for the lodge and is suitable to comfortably seat everyone together. For young families, the lodge is equipped with one high chair and two booster seats.
The Red Squirrel Lodge has a fully equipped and sizable 12' X 19' kitchen with an oven, a four burner stove, large refrigerator/freezer with ice maker, coffee maker, Keurig machine, four slice toaster, micro-wave, dishwasher, and laundry washer/dryer. Its spacious kitchen storage contains all the needed kitchen and cooking utensils and coordinated china service for twenty-four.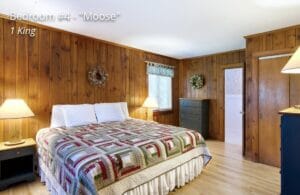 A large gas grill with all the necessary tools for cookouts are located on the rear deck overlooking the large back lawn, picnic tables and private woods beyond. Enjoy the natural wood burning fire pit table for evenings roasting marshmallows. A delightful, sunny and private outdoor shower with hot and cold running water is provided for a pleasant and comfortable shower and shampoo when returning from swimming or sunbathing at the beach. The beach, considered by many to be the best section of beach along Saco Bay, is conveniently located across the street and accessible via a public access walkway. Take our specially designed beach wagon with you. Carrying towels, umbrellas, a cooler and a kid is super easy with the wagon…its made to simply roll effortlessly across the sand!
At the Red Squirrel Lodge, every effort has been made to provide convenience, comfort and atmosphere for a relaxing seaside family vacation.